Label Map To Mask
Class: NodeRegionShapeKeep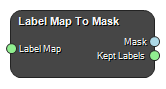 Converts a label map image (i.e. an image with different segmentations, each having a specific intensity) to a Mask by analyzing the shape of each label. A label map can be produced by Label Map (Regions) from a mask. 0 is considered as background.
Example workflows
Inputs
Label Map
The input label image, i.e. an image containing different regions with specific intensities.
Type: Image4DFloat, Required, Single
Outputs
Mask
The output mask created by keeping one or several specified label(s).
Kept Labels
A label map containing only the kept labels.
Settings
Number of labels to keep
Integer
How many labels to keep.
Sort By
Selection
Sets the property to sort the labels by.
Values: Elongation, FeretDiameter, Flatness, NumberOfPixels, NumberOfPixelsOnBorder, Perimeter, PerimeterOnBorder, PerimeterOnBorderRatio, PhysicalSize, Roundness
Reverse Order
Boolean
Reverse the sorting order.
References
See also
Keywords: regions, shape