Area Under Curve
Class: NodeAreaUnderCurve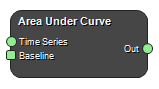 Calulate the area under the curve for each voxel in a dynamic series over a set timespan. If a baseline image is connected, values from this image will be subtracted from each voxel before it is added. If no baseline image is connected 0 will be used as baseline.
Inputs
Time Series
Input dynamic series.
Type: Image4DFloat, Required, Single
Baseline
Input baseline image.
Type: Image4DFloat, Optional, Single
Outputs
Out
Resulting parameter map.
Settings
Timespan(s)
Number
The number of seconds the algorithm should use to calculate the area. This value needs to be high enough to include at least two frames.
Keywords: area, dce, mri, AUC, IAUC