Gradient Magnitude
Class: NodeGradientMagnitudeRecursiveGaussian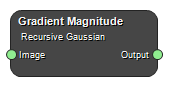 Computes the magnitude of the gradient of an image by convolution with the first derivative of a Gaussian.
Inputs
Image
An image.
Type: Image4DFloat, Required, Single
Outputs
Output
An image with the same size as the input image, where the voxel values represent the gaussian gradient magnitude.
Settings
Sigma
Number
Set Sigma value. Sigma is measured in the units of image spacing.
References
See also
Keywords: